Former Secretary of State Colin Powell to Keynote NBDPA's 40th Anniversary Opening Ceremonies
Washington, DC -- National BDPA announced the 65th Secretary of State, General Colin L. Powell, U.S. Army retired, will keynote the organization's 40th Anniversary Opening Ceremonies at #BDPACON15 in Washington, D.C. This year's international technology conference, IT Showcase, National High School Computer Competition (HSCC), Career Expo, and Youth Technology Camp (YTC), will convene August 17-22, 2015, at the Washington Hilton.

---
← President Barack Obama hosts an education roundtable with business leaders and America's Promise Alliance Chair Alma Powell, center, and Founding Chair General Colin Powell, left, to discuss what the business community can do to ensure America has a skilled, educated and competitive workforce. (Official White House Photo by Pete Souza)
More on BDPA @ 40 in your July 2015 edition of bdpatoday.
Teens awarded more than $1.6 million for scientific innovation
Washington, DC -- A complex mathematical proof that may have implications in theoretical computer science, biology and game theory. A bioinformatics project in which computers are taught to identify mutations in DNA that cause disease in order to develop new treatments. A study on tiny particles of sound, called phonons, and how they interact with electrons, which may improve superconductivity and result in energy savings.
Noah Golowich, Andrew Jin and Michael Hofmann Winer each received first-place awards of $150,000 at the 2015 Intel Science Talent Search (STS), a program of Society for Science & the Public. They are standing with Ms. Renee James (right), President of Intel Corporation at an annual STS black-tie gala at the National Building Museum, in Washington, D.C., on March 10.

---
← Photo courtesy: © 2015 Intel iQ. More on Intel STS in your March 2015 edition of bdpatoday.
BDPA @ CES2015 | #CES2015
Las Vegas, NV -- BDPA Members and bdpatoday staffers joined international tech journalists during CES Unveiled Las Vegas for new Pre-CES 2015 apps, products, and service announcements.

---
← Las Vegas, NV--International CES 2015 Media Day
bdpatoday and Under Armour photos | © 2015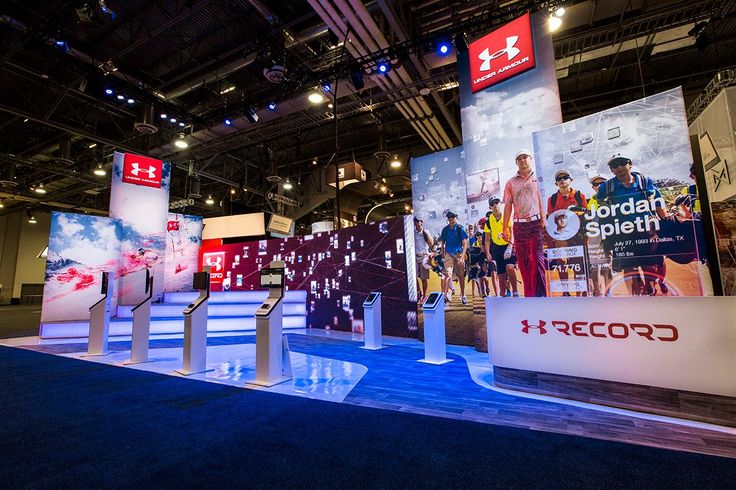 ↑ Under Armour launches UA Record, the world's first social fitness network for athletes. Discover more with bdpatoday @ CES 2015 on PTTV and January 2015's digital print edition of bdpatoday.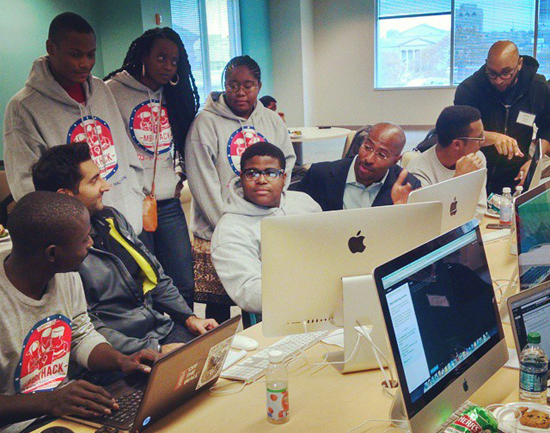 My Brother's Keeper Hack-a-Thon Launched November 14-16, 2014 in Philadelphia | #mbkhack
Philadelphia -- Qeyno Labs' mission is to transform children's lives through education, social innovation, and technology. Qeyno Labs is a hackathon incubator that harnesses the interests of high potential youth from low-opportunity settings into STEM career pathways. Qeyno Labs is proudly committed to providing playful learning experiences to the world by making "hackathon" a household word in every home and to lift innovation in every community. Select here to discover more ...

---
← Philadelphia--Van Jones (third from the right), CNN's Crossfire Co-Host and Founder of #yeswecode, is speaking with one of several #mbkhack teams partnering with Qeyno Labs on an online privacy app which was succesfully pitched by students to a panel of industry judges.

Photo by Michael Nobleza | #yeswecode © 2014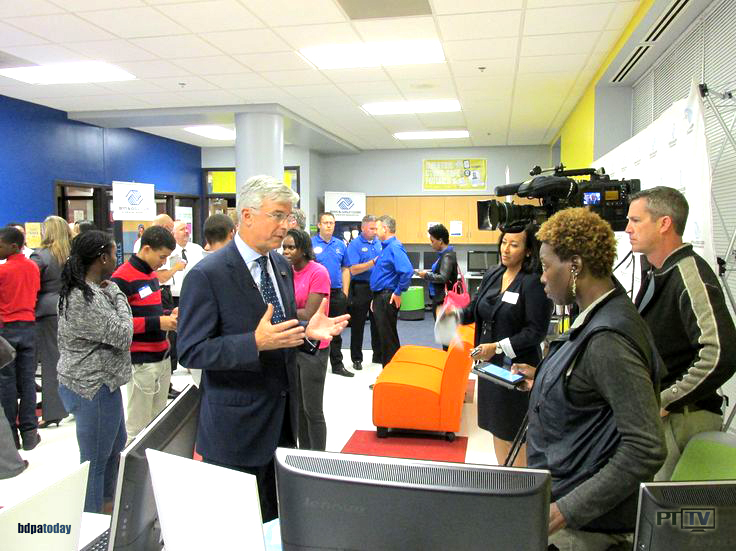 Best Buy Launches New Teen Tech Center in Washington, D.C.
Washington--Best Buy CEO Hubert Joly (foreground) is interviewed by students during the recent Grand Opening of the District's newest Teen Tech Center at the Boys & Girls Clubs of Greater Washington. The Best Buy Teen Tech Center officially opened its doors to FBRNation and the community to new technologies and applications now available inside TheARC.

Select here to Discover more ...

---
← Mr. Hubert Joly, President and CEO of Best Buy presented keynote remarks during opening ceremonies of the District's newest Teen Tech Center at The FBR Branch of the Boys & Girls Clubs of Greater Washington at TheARC.

PTTV photo | bdpatoday © 2014
#BDPA14 | Race To Innovate!
Indianapolis | National BDPA (NBDPA) and BDPA's Indianapolis Chapter hosted the 36th annual National BDPA Technology Conference and Career Expo at the JW Marriott Indianapolis, Indiana.

College, Trade School, and High School students from across America regularly attend National BDPA's annual trade show, career expo, and conference workshops with National BDPA's Sponsors to prepare for internships, scholarships, and emerging entry-level technical opportunities for next fiscal year.

Annual technology conferences feature the National High School Computer Competiton (#HSCC), a National IT Showcase competition for College and High School divisions, and Youth Technology Camps (YTC.)
---
← Photo: ©bdpa by Charlie Perkins
Discover more on our video channels via bdpatoday...
Select here for complete social media photo gallery or Success Storyboards near you.
Partner with a local BDPA Chapter, join today.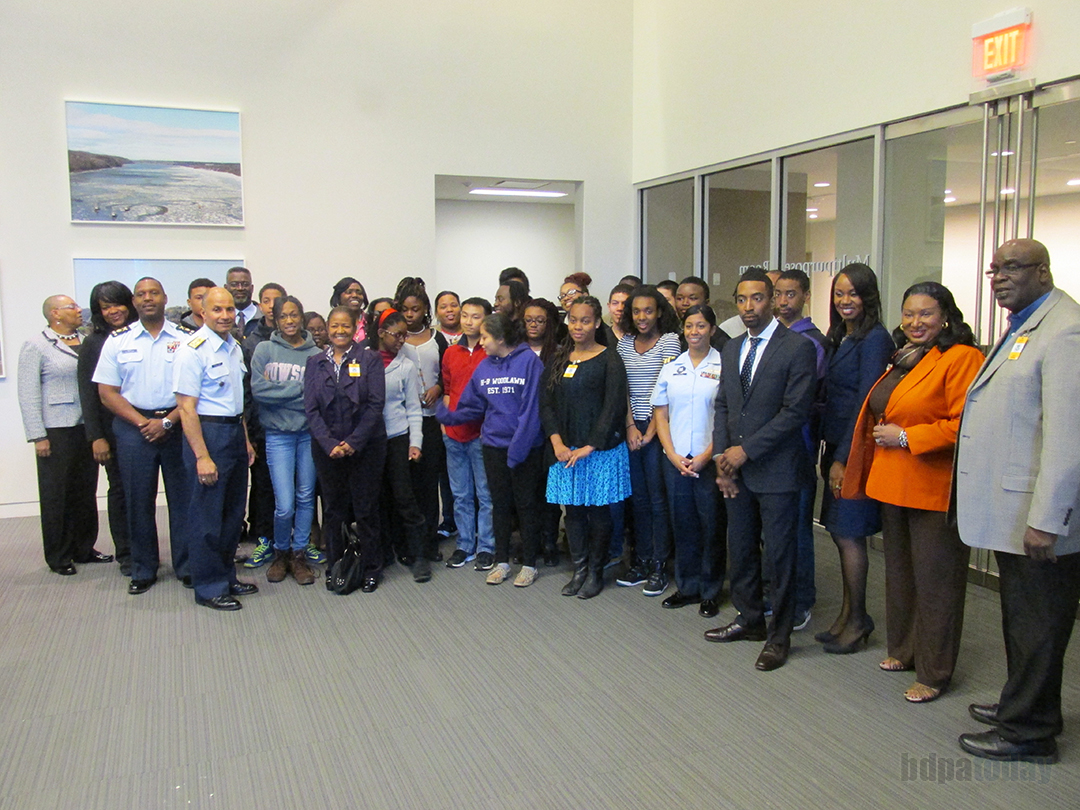 Coast Guard Hosts BDPA Students in new "Green" High-Tech HQ Facility
Washington--BDPA Student Members visit U.S. Coast Guard Headquarters in Washington, D.C. with local BDPA Chapters and bdpatoday's Popular Technology TV (PTTV) crew. Vice Admiral Manson Brown, a District of Columbia native, provided keynote remarks to BDPA Student Members, HSCC participants, and chaperons. Discover more...
---
←BDPA Students discover new career paths for information technology and cyber security with internships and scholarhips opportunities along the way. Photo credit BDPA-DC | bdpatoday © 2014
Vice Admiral Manson Brown, Deputy Commandant for Mission Support, with U.S. Coast Guard executives and BDPA Student Members.
Washington to Host 40th Anniversary & Tech Expo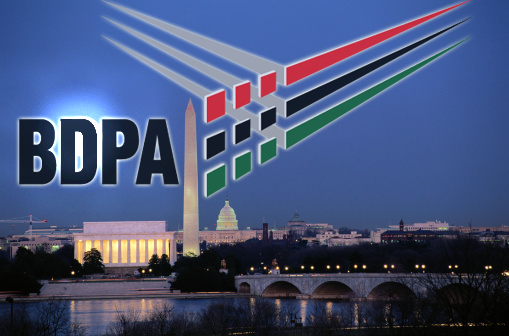 National BDPA (NBDPA) has selected Washington, D.C. to host BDPA's 40th Anniversary (#BDPAXL), BDPA's 37th annual Technology Conference, National High School Computer Competition (HSCC), National IT Showcase, National Mobile App Showcase, and BDPA's International Career Expo. Join over 40 local BDPA Chapters for these events and Industry's TECH-Reunion with BDPA from August 17-23, 2015. Visit bdpa.org to sponsor events, participate as a speaker, volunteer, or pre-register. Select here to review previous conferences.
Tech Journalists Wanted
Join Local Communications Teams With Your BDPA Chapter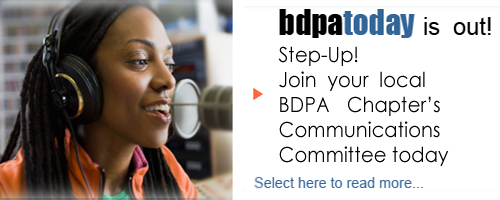 Explore Big Data, Cyber, & STEM
Local BDPA Chapters and The Microsoft Store
New Partners Rockin' IT & Gaming
Women's History Month
In 2013, National BDPA Launched Ensign Stevenson, U.S. Navy

Ensign Raven Stevenson, US Navy, salutes Gunnery Sergeant Ryan Claunch, US Marine Corps, during NROTC Commissioning ceremonies at Duke University, Friday, May 10, 2013. Ensign Stevenson is the first HSCC alumna from National BDPA to receive a Navy Commission. Follow our Social Media channels for related success stories and testimonials.
Read more ...
About Us
Co-Founder's Interview on PTTV

Founded in 1975, National BDPA (NBDPA) has partnered with industry and academia to support technical workforce requirements. NBDPA's Washington, D.C. Chapter was founded in 1978 by Norman Mays. It was the third NBDPA Chapter to receive its charter to help locally bridge digital divides and broaden opportunities for underserved communities in IT and related technical fields of interest. BDPA-DC will celebrate its 35th Anniversary in 2013.
BDPA Charters Huntsville
Alabama has a new BDPA Chapter
National BDPA Board members Theresa Williams, South Region Vice President (second from left) and Curtis Jenkins, National Vice President of Membership Management (third from left) presented BDPA's Huntsville Chapter President Mirie Westbrook a new BDPA Chapter Charter Certificate. BDPA Huntsville plans to host several Regional BDPA Conferences with NASA, Army Materiel Command (AMC), and the Missile Defense Agency (MDA) for small busineses and HBCU/MIs.